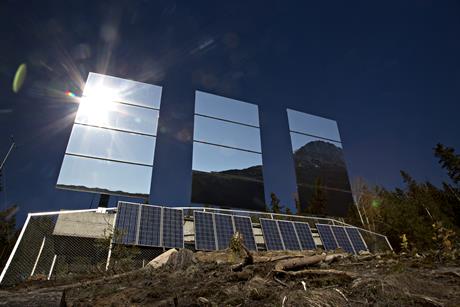 The sun mirror in Rjukan has become a reality. For the first time in history, there is sunlight at the market square during winter. , © Marte Christensen_NTB_Tinn Kommune
Who could imagine that the citizens in Rjukan could invite you to sunny days wintertime?

Well, we can!
Check the weather report on http://www.yr.no/sted/Norge/Telemark/Tinn/Rjukan/ before you go, thus the weather is the only thing we have no control over!

The Sun mirror
Start with a stop at Rjukan town square, where you can enjoy the effects of our major news; The sun mirror!

Mirrors are installed on the mountainwall in Rjukan, the mirrors reflect the sun rays send them down onto Rjukan town square.

Remember sunglasses, the effect is 80-100 %. You can actually feel the heat from the sun!

Krossobanen
After mingling in the rays at Rjukan town square, you can head on to Krossobanen, which is located about 2 km west of the square.

When Sam Eyde failed to realize the dream of the sun mirror, Krossobanen was built instead to carry Rjukans population up in the sun wintertimes.

At the top station there is another novelty waiting; Gvepseborg Cafe & Restaurant! It is located on the edge of the mountain, so you can enjoy a meal with breathtaking views of Rjukan and Gaustatoppen.
You can see how the square is lit up, in an otherwise dark valley .

Welcome to sunny days in Rjukan !